Wondering what it would take to make money from your email list? How about, what it would take to double, triple or even quadruple your income from one email or a series of emails?
Do you know how to create emails that are designed to deliver and convert your subscribers? Or What tactics you can use to get them to take action on your recommendations?  What about how to get them to know, like and trust you?
Continue reading to learn how to write emails that convert and engage your subscribers.
You're probably saying to yourself, that is not possible right now for you and you're right.
Without following a proven method you wouldn't be able to make a return on your email marketing efforts or say "the money is in the list".  The money is not in the list, it's in the relationship you have with your subscribers.
Correct me, if I am wrong, those that are making money with email marketing are doing certain things over and over again that is working for them. That's the only difference between you and them, they know something that you don't and they are putting it into action daily.
In this post, I will be sharing proven tactics and strategies that email marketers use to generate thousands if not millions from their email marketing efforts. These methods will allow you, once you take action, of course; to mirror their success and start to make money with your list.
Email Marketing is not dead
With more than 23,800+ emails in one of my gmail account, it's safe to say email marketing is not dead as some may think. It's been stated that email marketing has a 4x more reach than facebook and other social media channels combine in the UK market.
Email marketing has been the backbone of many marketers and companies like Amazon who racks in 37.45 billion in revenue from cross-selling and upselling via email follow up sequences. Ryan Deiss, Frank Kern, Anik Singal continue to make millions from email marketing year after year. Email marketing is responsible for 80-90% of most if not all marketers income. So definitely email marketing is not dead.
5-figure weekends Email Marketing Promotions
Whenever I received a promotion from one of my favorite marketers, I usually calculate how much cash he is going to bring in from his promotion. Mainly because he limits the number of spots/purchases to 100-200 and states the price of the product.  My mind immediately starts to calculate his earning. I do this because it confirms to me how much one can earn through emailing marketing when it's done right.
He will net around 5 figures in a weekend promotion without taking into account fees. When I see something that, I start to pay attention and ask questions like how is he structuring his emails, how often is he emailing during a promotion, what tools is he using consistently to promote.
The most important thing, I have learned is that it's possible to make money once you have a good offer and create a buzz about how your product or services can help your subscribers solve a problem.
For example, a weekend promotion for one of his recent product was costing $199.95 with 100 limited spots. So it's 199.95*100 totaling 19,995 from one promotion but of course, he has to deliver the content promise over a set time period usually 4 weekly immersion webinar session.
Not bad for a one email promotion when some people earn that a year. Modeling someone who makes a good living from email marketing is key. Mirroring how they structure their emails and engaged their subscribers to get them to click & buy is a worth wild study. Certain traits began to stick out and in this article, I wanted to share with several actionable steps in no particular order but if you implement them into your email marketing journey you are sure to see good result.
Certain traits began to stick out and in this article, I wanted to share with several actionable steps in no particular order but if you implement them into your email marketing journey you are sure to see good result.
What you will learn:
Examples of how marketers and companies use emails to generate cash
Several tactics you can implement right away to increase sales from your email marketing efforts
What to say in your email to get them to know, like, and trust you.
26+ Email Marketing Best/Proven Practices
How to structure your emails to get maximum return on investment
Much more
Email Marketing Best Practices
Get Personal
You might be asking yourself, what do I mean by "get personal". I mean let your subscriber know about your struggles and how you overcame them, or what events you are going to this month and why.
Giving your subscriber a peek into your life will make you relatable and just like them. If you have a family, talk about your family and how certain products or services help you free up your time to spend with them and provide the link to in your email.
You don't have to tell them everything but make sure it's relevant and interesting as well it doesn't always have to lead to a sale.
Here is an example from a marketer who's niece destroyed him at laser tag
Tell a story
The story that you tell your subscribers can be of your struggles, or accomplishments or even what you learn this weekend or why you decide to attend a particular event or purchase a particular product.
once you tell your story you can link out to the product or the article that helped you or is just an interesting read.
Here is an example from a marketer who lost his wallet

Inject Scarcity
People fear missing out and this has been the number one element I have seen used over and over again in multiple launches or weekend special offers where you limit the amount of spots available or this launch is only on for the next 7 days at a discounted price.
Everyday, I received an email from marketers trying to entice me to take action as this offer won't last. It works and you should start to think of ways you can inject scarcity into your email marketing.
Appsumo does an amazing job daily with injecting scarcity into their email marketing promotions as well as the copy is top notch.
Insert Time Limited Offers
This relates to scarcity as well. Often time you see physical retailers like Tesco or Asda(which are supermarket groceries store here in the UK), have special time limited offers.
Many businesses online and offline send out time limited offers usually around the holiday. Amazon is known for this with their daily deals and they have a countdown timer inserted on the page. Which is another strategy you can utilize.
Here is a time limited offer from Mike Cooch for instamate 2.0 software
Inserting a Count Down Timer
This has been known to work wonders and I almost forget to mention it.  Using countdown timers in your marketing all play into the scarcity and time limited offer tactics which can be lump together but it deserves it own little mention as it works time and time again.
To be honest most online funnel creation or sale page software has the option to add countdown timers but you can use a good one here at a reasonable price which works in emails.
Run a flash Sales
One company comes to mind which is Hostgator. Hostgator is a hosting company I use and they usually run flash sales for a limited time period like 3 hours or the next 5 hours you can grab hosting at a fraction of the price.
This works because everyone likes a deal and if you can get 3 years hosting for the price of a years service, why not.
Looking outside your industry can help you come up with different ways to create flash sales and your customers will thank you for it with sales.
That is if you have them on an email list and you communicate with them. You can let them know when the flash sale will be as a heads up or you can do it as a surprise and see what works.
Segment your list
Sending out the same offer to everyone on your list might seem like a good idea but what if that offer isn't relevant and unwanted. Here is where you run into trouble and people start to unsubscribe or email you back saying this has nothing to do with why they opted in.
Create a survey and/or send out various articles on several topics to see what subscribers click on. If they click on a particular article which you would of tag or tracked, you will have an idea of what they are interested in by their selection.
Every good autoresponder will allow you to segment your audience and will usually have an article showing you how. If they don't have an article, use youtube and surely someone will have created a video showing you how to segment your list using the autoresponder company you have.
Here is a good example of how Hanne from thrive themes segments their list by asking if subscribers are using infusionsoft.
Here are the ones I recommend you go with and I have used two out the three. This is a monthly cost unless you pay the yearly fee to use their services to keep that in mind and it is a must-have tools in your list building efforts.
Active campaign – $9 – 500 Subscribers
Aweber – $19 – 0-500 Subscribers
Getresponse – $15 Monthly – 1,000 subscribers
Please note these are affiliate links in this article. Want to know what else to write here is Aweber's what to write ebook.
Add relevant forms on your website
This goes without saying, you need to have a way for you to collect leads. If you don't build your list how else will you be able to make money from your list if you have none. You don't need a list of ten of thousand to make a good living. So add opt-in boxes on all your pages.
There are several plugins that allow you to add relevant opt-in boxes to certain pages. For example, let say I was writing an article on facebook marketing, I would have an opt-in box related to facebook marketing.
This article is about list building and email marketing so it would make sense to have aopt in box related to listing building and not facebook marketing. Do you get what I mean now?
Data shows that if you maximize opportunities to capture a lead in every position on your site you can boost conversion rate to up to 10x the rate of a normal lead capture form.
There are at least 6 primary positions that you can use on your website to create every opportunity to collect a lead.
Specifically these are:
1) Header bar
2) In content or below content or post.
3) Sidebar
4) Bottom right scroll up
5) Homepage Popup
6) Exit Intent (as someone plans to leave the page)
The two plugins, I recommend are listed below but you can use any free plugin
Thrive plugin will allow you to add opt-in features in all of the 6 locations mentioned above.
Email daily or consistently
Consistent contact with your subscribers will give you the opportunity to build trust and get your subscribers to expect your emails. Letting them know up front how often you will be contacting them and with what type of content is essentials so that they are aware and keeps you in the front of their mind.
How often you email is up to you but try not to leave it too long between email communication because your subscribers will forget who you are and why they opted-in in the first place and unsubscribe.
You might also want to consider when is the best times to email your subscribers. Studies show that 
Subscribers Clearout
One of the best ways to clear out non-active subscribers is to send them an email letting them know they will be unscubscribe from your list and to either click the link to stay on or they will be removed. Or you could have a link inside your email that will allow them to unsubscribe themselves without you having to do all the dirty work yourself.
Here is a good example of how T Harv Eker uses email marketing to asking subscribers a question.
Teach in your emails
One of the best ways to keep your subscribers engaged is to teach them something that will solve a problem. One of your follow up emails can be a how-to article you have written or an article someone has written that you found interesting and helpful. You could run a special webinar for those who purchased via your link to show them how to use the product you recommended to get a return on investment.
Here is a good example of an email that teaches content marketers the 7 Things Top Performing Technology Marketers Do with Their Content.
Model Good Headlines
There is no point trying to reinvent the wheel here, you can do a search in your inbox and see which headline grabs your attention and tweak it to match your market. As stated before I have around 23,800+ and counting emails in one gmail inbox that I can have a look at.
Example of some good subject/headline that grabs your attention
Another resource you can use to create good subject lines beside your inbox is a website called buzzsumo.com which analyze what content performs the best for any topic or competitor.  This is a great resource to come up with headlines and content ideas because it shows you what people are interested in and have shared on social media.
Test, Test, Test
The only way to know if something is working especially with email marketing is to test, test, and do some more testing. Send out emails with different subject lines at different times of the day and see if you get an increase in your open rate. With testing you need to track and measure your results.
Track and Measure
When it comes to tracking and measure certain metric you can check per email to see what is working and what isn't working.  Apparently, there are 11 email marketing metrics you can measure in order of importance but the best metric is your return on investment aka ROI.
Open rate
Click through rates
Hard Bounce rate
Earning per email
If you want to know those 11 email marketing metric check them out here. The screenshot show a lsit of other key metrics you can measure in your email marketing journey.
Model other campaigns
I touched upon this earlier by having a separate email where you can opt-in to other people lead magnets.  If you recently purchased a product via someone email campaigns, have a look at all the emails that was sent out and analyze what made you purchase via that person link. What did they do or say that push your button to say "yes" I need this product in my life! How many emails was mailed, what were the subject lines, what story did they tell, did they use testimonials, did they talk about benefits? You get where I am going.
What did they do or say that push your button to say "yes" I need this product in my life! How many emails was mailed, what were the subject lines, what story did they tell, did they use testimonials, did they talk about benefits? You get where I am going.
By modeling other marketers or businesses email campaigns you get a feel of what is working especially if you see a pattern.
Can't be bothered and want a proven system to writing emails that convert from a top marketer click here to get list breakthrough.
Build Your Tribe
Facebook group can be used to communicate with your customers on a daily basis and share useful content to help your customers grow and communicate with like minded individuals. Facebook groups allow you to present new product ideas and ask your tribe what they need help with the most.
Don't underestimate the power and resourcefulness of your tribe. Have a link at the end of your email encouraging people to join your private facebook group.
Mobile Friendly
All good autoresponder companies will have mobile friendly message capabilities.  Make sure as 90% of the time subscribers will be checking their emails from a smartphone. Send a test email to yourself and make sure your message looks good on your smartphone.
Create Valuable Content
Social media examiners is a prime example of a company that creates valuable content that helps marketers and small business owners learn and implements using social media.
This example showcases a list of articles in one email that their subscribers can select from. My guess is that they have tracking links for each article and tag subscribers base on their selection. Which is a way to segment your list base on tags and clicks.
Create Multiple Followup Sequences
Creating multiple follow-up sequences that you can use in your email marketing will prevent your emails from being boring and repetitive. Success emails marketers follow proven templates to create emails for each product they promote.
Here is a proven email sequence to mirror in your business.
Starts your email sequences on a Tuesday leading to product offering going live on a Friday 11 est.
This is a 3-day weekend promotion leading up to Monday closing 11:59PM.
Create scarcity by limiting the number of spots between 100 – 200.
Your email should proceed as followed:
Tuesday – Email with a story
Wednesday – Email continuation from Tuesday
Thursday – Same but letting them know that something for sale tomorrow
Friday – Shopping Cart open sharp at 11 am est and ends either Monday at midnight est.
Saturday – How  many spaces left
Sunday – Same as Saturday with a twist maybe a bonus added to get people to take action
Monday – Closing day emails which is a series of emails counting down
Monday – 24 Hours Left email – Scarcity
Monday – 16 hours Left email -How many spots left filling up fast email with a touch of Scarcity
Monday – 8 Hours Left email – How many spots left filling up fast email with a touch of Scarcity
Monday – 4 Hours Left email – How many spots left filling up fast email with a touch of Scarcity
Monday – 1 Hour Left email – How many spots left filling up fast email with a touch of Scarcity
Monday – Final Warning or 1 Hour Left email – Scarcity
Monday – Closed You Missed Out Email – Scarcity
As you can see for one promotion you have a series of 14 emails to drive home the sale and not just one email.
Want to know how to craft these emails to maximize your return on investment click here to check out list breakthrough.
Offer Upsell and Cross-sell
Amazon is one of the best companies at upsells and cross-selling with revenue to back it up.  Below is an example of how amazon
Below is an example of how amazon follow-up with emails showcasing upsell and/or cross-sell products.
Optimize Your Time
After sending out a few emails, you can start to get an idea of when is the best time to send emails to your subscribers base on your open rate. Only by testing, can you really be certain what time is best for your list by checking the open rate and other metrics as mention above!
According to Q4 2016 research from Experian the best days and times to send emails out are Sunday & Monday between   4 to 8AM and 4 to 8PM.  Very interesting finding but each list is different. So make sure to check your metrics and decide when is the best time base on your findings.
For more information from the experian report click here for reliable source.
Embrace Automation
Using the right tools can help you save time and money by implementing some automation into your email marketing efforts. Email autoresponders and/or CRM systems like HubSpot and Active campaign can help tremendously to free up your time.  Active campaigns allow you to do everything mentioned above and at a fraction of the price of some high-end services. Start small then scale up if you need too.
Write to One Person
Write like you are talking to one person. Use the KISS method when writing your emails aka Keep It System Stupid. When you write like you're speaking to one person, your conversation becomes more clear and focus on helping your subscriber with solving their problem.
Short & Concise Subject Line
You have 8 seconds to capture your subscriber attention and possibly even less if they are scrolling through on their smartphone. So make your subject is short, concise, and relevant to the reader. Make them want to know more by being interesting, enticing, provoking, polarizing and create curiosity. Sounds like a mouthful
Make them want to know more by being interesting, enticing, provoking, polarizing and create curiosity. Sounds like a mouthful doesn't it, to get all this into one attention-grabbing headline/subject line. Which is why you need to do the next step which is creating a swipe file to get proven subject line that get open.
Create a Swipe File
Create a separate gmail account to use to opt-in to other online lead magnets. You will start to build up a swipe file to see how other email marketers communicate to their list. We don't want to reinvent the wheel here, we want to mimic others success online email campaigns. If you find yourself wanting to purchase a product from a marketers email sequences then it's a sure sign he knows what he is doing and that is a promotion you can model.
If you find yourself wanting to purchase a product from a marketers email sequences then it's a sure sign he knows what he is doing and that is a promotion you can model.
Plan Your Campaigns in Advance
Planning your campaigns around holidays, special events, miles stones, birthdays, flash sales all in advance can be done in one sit down session and map out for the whole year. Of course, you can't plan everything but you will at least have an idea in advance what promotion run. I learn this from watching a webinar from Ryan Deiss digitalmarketer.com. You can use a physical calendar and/or google calendar to plan your campaigns.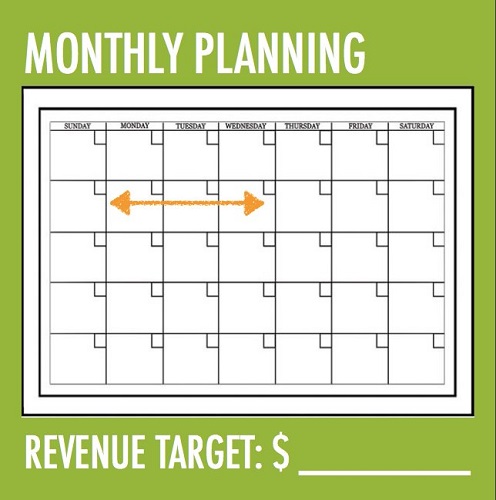 Click here to learn how to create a promotional calendar
Offer Bonus – Relevant Bonus
This can make the difference between making the sale and/or making a five figure promotion. Bonuses that are relevant and help improve the product offer is essential. Don't just offer random products as a bonus, make sure that it compliments or add value to the product.
See what is missing and create a bonus that uplifts the product you are promoting. Sometimes the bonuses will be more valuable than the product you are promoting.
Here is an example from Mario Brown promoting a new product but offering a bonus that is more valuable then the product itself.
Structure Your Campaigns for Maximum Impact
Implementing all or just a few of the tactics mentioned in this post will help to make sure you structure your email marketing campaigns for maximum impact, if you truly want to craft emails that make you rich you need to model successful campaigns. This is where list breakthrough comes into places as it teaches you how and what to say to get your subscribers to take action and it's a proven system that works.
Here is the list of email marketing tactics you can use
Get Personal
Tell a story
Inject Scarcity
Insert Time Limited Offers
Count down timer
Run a flash Sales
Segment your list
Add relevant forms on your website
Email daily or consistently
Subscribers Clearout
Teach in your emails
Creaft Good Headlines
Test, Test, Test
Model other campaigns
Track and Measure
Build Your Tribe
Mobile Friendly
Create Valuable Content
Create Multiple Followup Sequences
Offer Upsell and Cross-sell
Optimize Your Time
Embrace Automation
Write to One Person
Short & Concise Subject Line
Plan Your Campaigns in Advance
Create a Swipe File
Offer Relevant Bonuses
Conclusion
Email marketing is not going anywhere and when done right can yield enough income consistently to do what you want, where you want to do and with whom you want to do with it. Take good care of your tribe on your list and they will in return take care of you. Implement all of the tactics mentioned above and you will start to get a return on your efforts.
Learn how to write emails that convert into sales should be on the top of your list with list building. They both go hand in hand so dedicate at least one hour a day to list building and email marketing.
Leave a comment below if you have any other useful email marketing tips.